Tuesday, August 25, 2009
Last Saturday black dressed mothers gathered for third week in the park in Rasht, city located in north of Iran. They showed their tribute to victims of last months state violence by tying black ribbons in trees.
Friday, August 21, 2009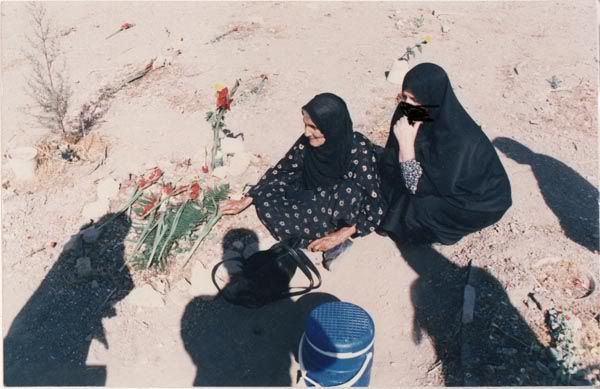 By

R
at 2:36 PM
No comments:


Norooz News:
42 bodies´ of protesters from Tehran who were killed in demonstrations was secretly buried 12 and 14 of July in section 302 of Beheshte Zahra cemetery outside Tehran.
By

R
at 12:44 PM
No comments:


Friday, August 14, 2009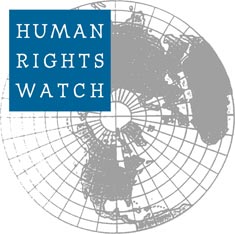 Nature, Scale of Abuses Indicate Coordinated Efforts Ordered at Highest Levels
August 14, 2009

(New York) - The Iranian government should investigate the nation's top security officials to determine whether attacks on demonstrators and detainees following the disputed June 12, 2009 election were ordered and coordinated at the highest levels, Human Rights Watch said today.
More >>
By

R
at 4:26 PM
No comments:


"Must read" for Judge Mortazavi and prison authorities in Iran
AFP)
BUENOS AIRES — The former general who ran a base that was the backdrop for multiple abuses during Argentina's 1976-83 dictatorship was sentenced to life in prison on Wednesday for human rights violations.
Santiago Omar Riveros, 86, who commanded the Campo de Mayo barracks near Buenos Aires, was found guilty of torturing and beating to death 15-year-old Floreal Avellaneda, and abducting his mother, Iris.
The teenager and his mother were arrested at their home a month after the March 1976 military coup.
Iris told the court they were both tortured to find out the whereabouts of her son's father, who had managed to escape capture by jumping from his rooftop when neighbors warned him of the police raid.
More >
Picture: Members of the organization Mothers of Plaza de Mayo pose with pictures of relatives who disappeared

By

R
at 3:08 AM
No comments:


Thursday, August 13, 2009
UN rights experts warn Iran over torture
(AFP)
GENEVA — Iran's Revolutionary Court must reject confessions of political opponents extracted under torture or harsh interrogation, three UN human rights experts warned Iran on Thursday.
In a joint statement, the experts said they were continuing to receive reports of deaths in custody and of torture of opponents arrested during the wave of protests in Iran.
"No judicial system can consider as valid a confession obtained as a result of harsh interrogations or under torture," said the UN Special Rapporteur on Torture, Manfred Nowak.
"These confessions for alleged crimes such as threats against national security and treason must not, under any circumstances, be admitted as evidence by the Revolutionary Court," added El Hadji Malick Sow, vice-chair of the UN Working Group on Arbitrary Detention.
More >>
By

R
at 12:30 PM
No comments:


Wednesday, August 12, 2009
"The trial now going on in Tehran appears to be nothing but a 'show trial' through which the Supreme Leader and those around him seek to de-legitimize recent mass and largely peaceful protests and convince a very sceptical world that Mahmoud Amadinejad was re-elected fairly for a second term as president," said Irene Khan. "It is vital, therefore, that there is an international presence to observe the proceedings at this trial and uphold the rights of the defendants, and I urge the Iranian authorities to allow this."
More>>
By

R
at 5:31 AM
No comments:


Tuesday, August 11, 2009
Simon Tisdall
The Guardian, Monday 10 August 2009 02.13 BST
Senior police commander says head of Tehran prison dismissed after evidence of abuse but denies anyone died
More >>
By

R
at 1:14 PM
No comments:


(AFP)
TEHRAN — Iran's judiciary said on Tuesday that 4,000 people were initially arrested by security forces in the crackdown on protesters after June's disputed presidential election.

"In the aftermath of the election, 4,000 people were arrested," judiciary spokesman Ali Reza Jamshidi told reporters.

He said 3,700 were released "very soon", but that "those who were involved in the riots were detained."

About 30 people were killed in the violence that flared during massive street protests against the re-election of President Mahmoud Ahmadinejad in the June 12 vote. Hundreds of top reformists, political activists and journalists were among those arrested.

At least 110 people have been put on trial before a revolutionary court in Tehran, including a French woman lecturer and two local employees of the British and French embassies, accused of involvement in the unrest.
Thursday, August 6, 2009
Etemadmeli (Karroubi's official newspaper) reports that a member of the investigation committee of the Iranian parliament has indicated that the parliament intends to investigate the death of a 12 year old boy who died as a result of getting hit on the head by a baton. Hamid Reza Katozian
Ali Reza Tosali, was attending the demonstrations that took place last week on Thursday with his father. These demonstrations were held in Tehran's cemetery (Behesht Zahra) to commemorate the passing away of those that died during the demonstrations. Ali Reza reportedly got separated from his father and was fatally hit in the head with a riot police officer's baton.
His body was held for a period of four days by authorities before being returned to his family on Monday. According to Iranian officials, Ali Reza is the first child to die during the demonstrations.
Translation:niacblog.wordpress.com
By

R
at 4:09 PM
No comments:


Today Behzad Mohajer´s family and friend had a memorial ceremony for him.
Behzad Mohajer's body was delivered to his family after 50 days.
By

R
at 3:01 PM
No comments:


To: The Committee of Mourning Mothers
From: Bay Area Women in Black
Oakland, California,
Dear Mourning Mothers,
We would like to convey to you our sense of sorrow and outrage at the treatment you and your loved ones are receiving from the Government of Iran. We conduct a silent vigil each Saturday to express our desire for the end of all injustice and repression, particularly in the Middle East but in any area where violence is done to human beings. We will dedicate our forthcoming vigils to the Mourning Mothers in the hopes that your children may be freed and that justice may be done.
In solidarity,
Bay Area Women in Black
By

R
at 2:27 PM
No comments:


Thousands of Kermanshai people attended Kianoosh Asa´s 40th day memorial. To start with when crowd followed the family to the cemetery police forces avoided confrontation. But later on the stopped people from reaching the grave.
When Kianoosh Asa´s brother wanted to say some words about his brother police forces tried to arrest him.
When people interfered and did not let police arrest Asa´s brother they started to use tear gas and pepper sprays against crowd. The they attacked mourners with sticks.
Asa´s sister and mother´s face was covered with tear and blod.
About ten mourners got arrested.
By

R
at 12:07 PM
No comments:


Fereshte Ghazi- iranbaan
Journalist Zhila Bani Yaghoub is under pressure and her family is asked to stay silent & avoid interviews.
Mahsa Amrabadi's interrogator has asked her mother to avoid interviews about her & Masoud Bastani & stay silent
By

R
at 4:04 AM
No comments:


Haunts: Mourning Mothers, Morning Mothers
More>>
By

R
at 3:35 AM
No comments:


Wednesday, August 5, 2009
Iranbaan
Haleh Sahabi Women activist and member of Mothers of peace was beated and arrested in Baharestan.
She was taken away from the crowd nad hit in the head with a baton such that her head cracked and bleed.
54-year-old Haleh Sahabi has high diabetes & the smallest bruise can lead to heavy loss of blood.
By

R
at 1:41 PM
No comments:


Zahra Nozari, mother of Pooya Maghsood Beigi one of the demonstrators who died after release from arrest because of torture injuries in Kermanshah was arrested while holding en sit-in strike outside of Intelligence ministry office. Police authorities will not give the family any information she is being hold.
By

R
at 1:22 PM
No comments:


Tuesday, August 4, 2009
By Fereshet Gjazi roozonline.com
While the identity of a new victim of popular protests is revealed every day, the families of the victims are under heavy pressure not to disseminate information about the death of their loved ones.
They are not even allowed to hold memorials for their loved ones. Some families discussed the pressures facing them with Rooz and demanded an investigation into the cause of their children's death.
Air Javadifar, who was studying management at the Qazvin Azad University, is one such victim who was buried last week. The lifeless body of this 25-year-old man, who was arrested on July 9, was delivered to his family last Sunday. His family did not know about their son's whereabouts or fate until then.
More >>
By

R
at 2:34 PM
No comments:


Monday, August 3, 2009
A memorial ceremony for Kianoosh Asa will be hold Thursday august 5 in Talar Abbasiye in Kermanshah between 17:30PM and 19:PM.
A tribute to his memory will also be hold at cemetery same day.
Last Sunday his mother was visited by a group of local human rights activists.
By

R
at 2:26 PM
No comments:


Sunday, August 2, 2009
Families protest against forced confessions.

Tomorrow August 2, at 11 AM, families of prisoners will gather in front of Ayatollah Hashemi Shahroudi, Head of the Judiciary Office to protest against illegal trial procedures and forced confessionse.
Families urge fellow Iranians and all freedom loving people in the world to join them in this cause.


By

R
at 3:40 PM
No comments:



In response to the appeal of Shirin Ebadi, Nobel Peace laureate, we express our solidarity to the Iranian mothers and to all women who, in Iran and elsewhere in the world, even at risk to their own lives, go out on to the streets to demand justice and truth, so that silence does not fall on the victims of repression and power that uses force of arms to silence those who struggle for their rights.

While we extend our solidarity to the Iranian mothers, we also raise our voices so that their suffering will not be used to justify military "solutions" to the crisis in Iran, as the repression of Afghan women was used to justify the war begun in 2001 and continuing today.
Women in Black Italy
An international movement of Women for Peace
By

R
at 12:32 PM
No comments:


Baezad Mohajer, 47-years-old, disappeared June 15 during the street protests. After 46 days his family found his body in Kahrizak.
By

R
at 11:59 AM
No comments:


Change for Equality: The following statement, which was signed by over 800 activists, was issued by a group of women's rights activists. This is the second statement issued by women's rights activists regarding recent developments in Iran and the broad arrest of civil, political and human rights activists and ordinary citizens. The last statement was signed by over 600 women's rights activists and called on the government to end the crackdown against Iranian citizens and free all those arrested. The latest statement, which is provided below, requests that officials release women's rights activists and those who support the women's movement. Shadi Sadr, one of the activists named in this statement was released from prison on July 17, after 11 days in detention.
More >>
By

R
at 10:26 AM
No comments:


Saturday August 1, a group of mothers gathered in Laleh park to protest against recent months arrests and killings of demonstrators
Women, about 40 of them, gathered by the pound in the park.
Police and plainclothes were walking around and keeping women under observation.
By 19:45 mothers started to march in the park square. Groups of people from around the park joined them.
Others were asking mothers why they march and some raised their hands making the victory sign.
Police forces who did not expected such a move from mothers surrounded women and tried to force them out of the park by driving vehicles trough the crowd.
Other officers photographed the demonstrators.
The march lasted 20 minutes. At the end mothers lifted their hand showing victory sign and then left the park.
Mourning mothers will continue the gathering every Saturday in the parks.
By

R
at 6:32 AM
No comments:


Zahra Nozari, mother of Pooya Maghsood Beigi one of the demonstrators who was killed in Kermanshah got arrested while holding en sit-in strike outside of Intelligence ministry office.
By

R
at 6:23 AM
No comments:


Saturday, August 1, 2009
By

R
at 3:18 PM
No comments:


My father's confessions in court are no legal, says Fatemeh Abtahi, Mohammad Ali Abtahi´s daughter to BBC.
- We do not recognise this court. Neither we as his family or his lawyer had any information about trial.
These confessions will not hold in a proper trial. Those who are familiar with the may father´s blog know that those words in the court were not his own.
By

R
at 3:02 PM
No comments:


Tomorrow August 2, at 11 AM, families of prisoners will gather in front of Ayatollah Hashemi Shahroudi, Head of the Judiciary Office to protest against illegal trial procedures and forced confessionse.
Families urge fellow Iranians to join them in this cause.
By

R
at 2:51 PM
2 comments: